Since school period is over, time for family vacation.   We are already anticipating road trips every summer as this is the time to rekindle relationship thru a bonding of relaxation.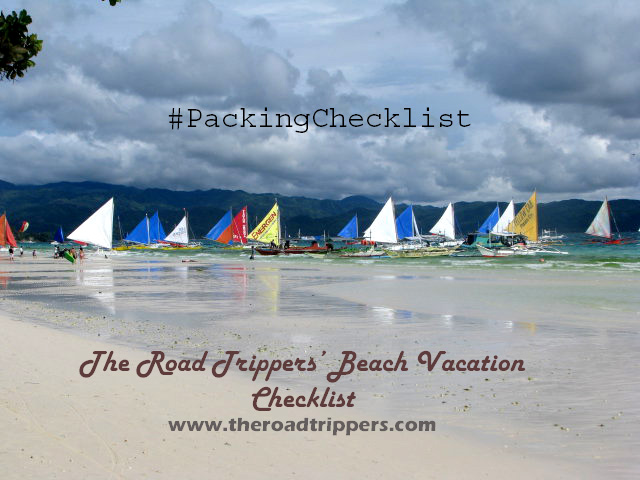 Most likely this would be in group like reunions both on our side, hubby and me.  As in group, no solo or partner travelling for the meantime.  LOL!
Anyway, way back 3 years ago, we planned our trip ahead of time like 7 months ago where each family availed seat sale going to Boracay.  Some of the kids were first-timers riding in a plane and it was a bit of excitement and new experience to all of us.
For now, road trips along southern and northern Luzon will be the anticipated one for the next 3 months.  Definitely for the past years we were doing it together, it would be fun, fun for my kids, nephews, nieces, siblings and parents.
But how do we do it?
Me and hubby's professional work entailed a lot of planning and part of it would be preparing a check list which we also applied to my personal travel especially like this one.
Honestly, I'm soo very itchy to write this kind of post to share as I have always a ready checklist to share.  Name it – from itineraries, cost, schedule and stuff to bring.
Most of them I put them in Excel format w/ a check mark if I already did it or not.  Maybe that is how I'm super OC (obsessive-compulsive) in terms of exploring everything it as I don't like to missed anything.
Below is a sample checklist that I use for my family's simple roadtrip.  Hope this list can help you in a way for your future road trips in a beach.
Some notes:
Sometimes there are rented goggles or snorkels at the water resort. We opted to buy one for hygienic purposes.  Anyway, if we are already on the water activities always its really wise to bought one rather than renting.  At the end, you are already saving a money out of it.
Bringing quick medicines like Paracetamol, colds, band-aids are always a must in my bag even I do solo travelling.  Even the resort would have one prepared, I still preferred to bring a pack for me.  You can also check their website for more http://www.unilab.com.ph/
Never leave without the feminine like Unilab's Pure Fresh which has a mild and cold effect once used.  Aside from staying it fresh and clean, chlorine from the pool or salty water from the beach prevented it to be infected.
 Applying sunscreen with high SPF 45 minutes to 1 hour before soaking to the water is effective.  You have to  re-apply it after an hour.  My kiddos are fully aware of this as they are also keen on the harmful effect on the sun's heat.  As much as possible, got 2 bottles to bring.
 I also bought sarong instead of towel especially if we did not bring our car with us like taking a bus ride.  From there, we can also use this as a blanket.
Maybe putting them into writing would clearly focus your objective to make it a worthwhile yet a memorable experience to remember.
You can add more on the checklist if I forgot some pointers.  Do let me know.
Happy summer trip everyone!