Travel News: Philippines and Portugal sign two agreements to strengthen relations.
On 07 October 2015 at the Ministry of Foreign Affairs of the Portuguese Republic in Lisbon, Portugal, Ambassador Philippe J. Lhuillier of the Philippine Embassy in Lisbon signed on behalf of the Philippine Department of Foreign Affairs a Memorandum of Understanding on the Establishment of a Bilateral Consultation Mechanism and a Memorandum of Understanding on Cooperation in Diplomatic Training and Exchange of  Information and documentation.
Signing for the Portuguese Foreign Ministry was its Secretary General, Ambassador Ana Martinho. The signing was witnessed by the Foreign Ministry's Chief of State Protocol, the Director of the Diplomatic Institute and the Director for Asia and Oceana.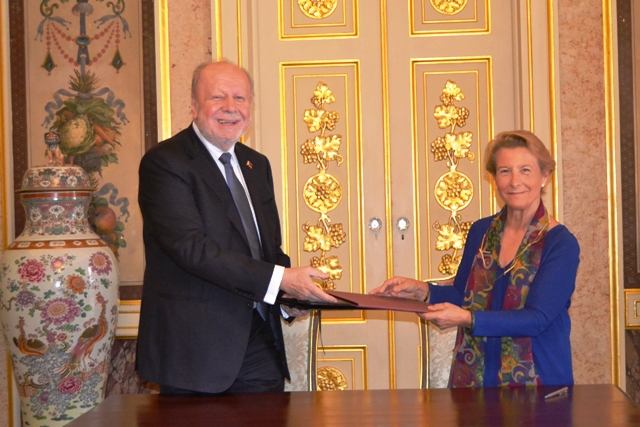 Ambassador Lhuillier noted the significance of occasion in the sense that the signing of these two Memoranda of Understanding (MOU) institutionalizes formal mechanisms for having more dynamic and closer engagement and bilateral relations between the Philippines and Portugal.
He said, "The Philippines and Portugal stand to benefit from closer cooperation and relations considering that both countries serve as ideal gateways to each other's regional markets. Establishing a regular consultation mechanism will allow both countries to develop a roadmap for activities and initiatives aimed at broadening the scope of current engagement in vital areas such as trade, investment, culture, tourism, defense and security."
Ambassador Lhuillier further noted that the last two bilateral consultations were held back in 2000 and 2002. He said, "It is high time that the Philippines and Portugal start to more regularly sit down at the table in order to revitalize the bilateral relationship so that both countries can work together in pursuit of common interests and benefits."
Regarding the MOU on cooperation in diplomatic training, the Ambassador remarked that this will facilitate interaction between the two countries' diplomatic training institutes.
He notes that this will allow Filipino and Portuguese diplomats to learn from each other and exchange views and insights concerning global and regional developments and issues. With the signing of the MOUs concluded, both sides are now looking to hold bilateral consultations by next year.