Last weekend, we got an intimate interaction with stingrays and baby sharks at Manila Ocean Park. At first, it seems that I cannot believe that I can engage myself to be with them in an outdoor pool even it is a half-body encounter.
We know sharks and stingrays as an amazing sea creatures in a deep blue sea. They become also one of the stunning attraction at Manila Ocean Park's Oceanurium inside their public aquarium.  But this time, the new Acquatica sea animal interaction was such a delightful experience.
The Rays and Sharks Experience:
When I saw them swimming inside the crystal clear water pool, I was already amazed with their sizes and varieties. As I walked thru the pool, I did scream a little when they were passing through my feet touching my skin. Yes, so slimy yet too soft.
When it was time to hold on to them, I have to go shoulder deep into the pool to keep them also continuously with the water. Heavy I may say when I started to carry them as the stingray remain gentle and peaceful.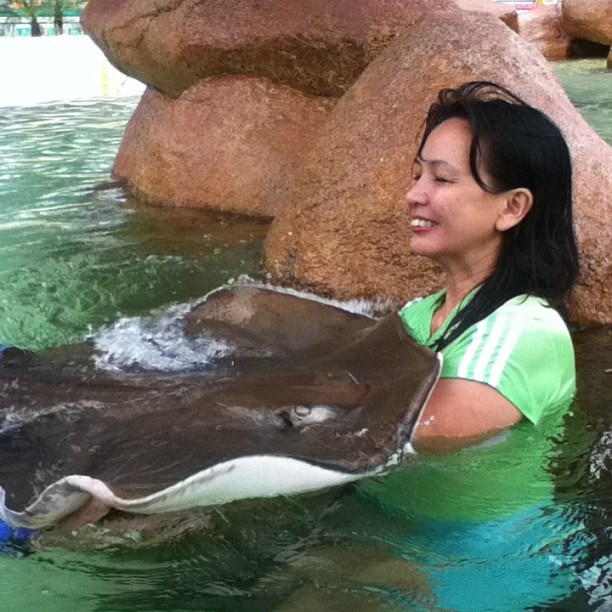 Next stop, a seven-foot shark roaming around the pool. Some of my colleagues even got to swim with them beneath to see them closely. But me, I just stared with it and contented to watch them.
The idea that these sea creatures were misunderstood as dangerous made me realize that this fact is not that true. Last July 2013, we went to Oslob Cebu for the whale shark watching. From that experience, I aim for more, learn to appreciate and love them.  With Manila Ocean Park, I can interact with them without the hassle of long trip or a boat ride.
Through with this sea experience, my weekend was such unforgettable blast marine urban adventure aside from swimming and snorkelling. I know it is way better if one can scuba dive in a blue sea with other marine creature.
One thing for sure, even the rare moment of personal face to fin contact is already enough for me, holding, touching and swimming with them is such an amazing feeling.
The fee for the Sharks and Rays Encounter is P 800.00 where one can swim with them for 30 – 45 minutes. For more details call 567-7777 loc. 153.
Location:  
Acquatica Area of Manila Ocean Park behind Qurino Grandstand Luneta, Manila.
You can also visit their:
Website: www.manilaoceanpark.com
Facebook Page: www.facebook.com/pages/Manila-Ocean-Park