When I finished my Cebu check-in with Philippine Airlines (PAL) going back to Manila, I stumbled upon this notice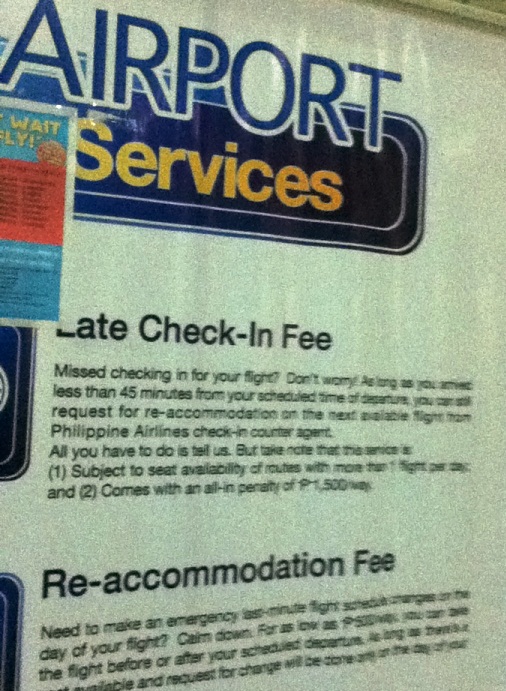 Well, quite blurry as  I took this thru an ITouch while listening to music.
Just to confirm and still waiting for my flight, I research via internet about this announcement.
Effective by May 15, PAL will fine late passengers P1,500 who would not able to report at the check-in counter less than 45 minutes prior to departure.
When the passenger reports at the check-in counter at the same time or later than the estimated time of departure (ETD), the passenger is considered no-show.
PAL will also charge P1,500 as re-accommodation fee, which is applicable to passengers who want to take the next earliest flight.
Aside from that, PAL also cut the baggage allowance from 15 kilograms per passenger to 10. For excess baggage on domestic flights, it raised the charge from P150 to P200 inclusive of VAT.
Still this struck me and I have to take this note as highlighted.  LOL!
Late passengers will fine P1,500 inclusive of value-added tax (VAT).  PAL will also charge P1,500 as re-accommodation fee.
A total of  P 3,000.00 – a flight travel cost already, a lot, as in huge pasalubong or it can be put into savings.  What more, if your pockets are empty, one is dreaded to use their credit card.
As usual, my flight back to Manila was delayed again.  From 9:20pm, it was re-scheduled  to 10:00pm.
I am just wondering since this flight carrier is imposing fine to late passengers,  I think they should also pay passengers for delayed flights.
Anyway, to avoid those penalty hassles, allow 2 hours before the check-in time which will entail  long lines from security, registration and carry-on restrictions.
As my last note. flight experience should be enjoyable.  Defensive planning is deemed to be necessary when time is the most important consideration.